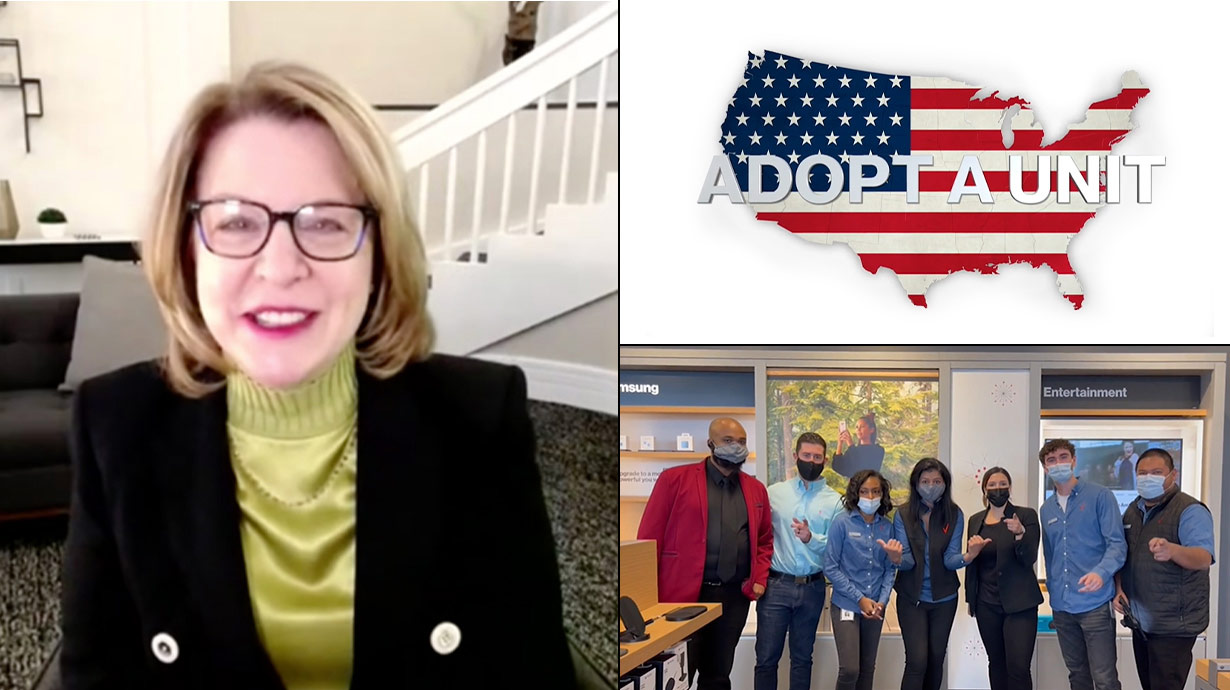 Lots of good energy. | About Verizon
We say it every week, so why stop now… Happy Friday! On today's Up To Speed ​​Live show, host Andy Choi shared the following updates:
Weekly review
On Monday, we reviewed all of the amazing work our teams did during hurricane season, with a reminder of the power of our VtoV Employee Relief Fund.
On Tuesday, after a lot of waiting, we welcomed Tracfone to our Verizon family.
Throughout the week and Thursday we shared some very special segments from George Talks Tech with historical icons helping George find the perfect holiday gifts.
Two new 5G Internet cities for individuals and businesses
We talked about the importance of 5G home internet and 5G business internet to the success of our business, and that's why we're proud to welcome Dayton, Ohio and Jacksonville, Florida to the 5G family. . Consumers and corporate clients in parts of these cities can register today. Our 5G network continues to grow every day, so follow Up To Speed ​​for more updates. We extend a big thank you to our network teammates for making sure 5G is well built.
Adopt a unit
Andy shared a video featuring Doug Sullivan of the Global Network & Technology team on a great way to give back this holiday season through our Adopt a Unit initiative, which benefits military personnel and their families. There are many ways to participate. Most importantly, log into the Volunteer Portal for more details.. Volunteer time may be spent shopping, transporting and shipping items. For more information, click the FAQ tab on the event website or send an email to [email protected] You can also search for flyers in your locations with QR codes for easy access to the event.
"As a veteran of the US Navy myself, I can tell you that this program means the world to our troops overseas," said Doug. The last day to participate will be December 10th.
Women in Business Final
Verizon Business CEO Tami Erwin participated in a amazing chat with other women from CVS, Microsoft and Chipotle to close the Women in Business of the Year series. They discussed the real challenges facing women today and how organizations and individuals play a role in uplifting people.
WAN comes to NaaS
We are enhancing our network-as-a-service digitization strategy with the recent addition of Cisco-managed SD WAN services, including support for 5G connectivity. With these new solutions, our customers can take advantage of Verizon's 4G and 5G networks, giving them the ability to adapt, adopt the latest technologies and remain agile to meet evolving customer demands.
THOR is becoming popular.
Our very own THOR, the fast-response command center, landed on Popular Science's Best of What's New Award list. Every year since 1988, the editors of Popular Science have screened thousands of products for the best innovations and THOR was selected as one of 10 winners in the "Safety" category. It's another example of how we are always innovating and always there for customers, communities and first responders when they need us most.
Another great victory for the public sector.
Verizon Public Sector has won two contracts totaling $ 34.6 million with the US Department of Energy. The work includes voice and data services and will involve a number of DOE facilities, including their headquarters in Washington, DC. Congratulations to the team!
Your last chance to win.
A reminder that today is your last day to participate and win an Apple Homepod Mini, a great holiday gift for you or a loved one. All you have to do is follow our Inside Verizon handle on Instagram, take our #HolidayYourWay quiz and let us know your result. The quiz takes less than a minute to complete and you could soon be the owner of a new Apple Homepod Mini.
Exclusive concert of the V team
Start to get excited because next Friday we will have a very special episode of Up To Speed ​​with a virtual live concert featuring a mysterious musical guest named… Wait, that would spoil the surprise! To hear great tunes live, join us next Friday, December 10 at 12 p.m. ET / 9 a.m. PT here on Up To Speed.
Today's approval has been brought to you by …
Thanks to Aparna Khurjekar, Senior Vice President of Verizon Business Markets and our friends at our store in Lawrenceville, New Jersey for closing this week with the energy we need!
If you have any questions, email them to [email protected]