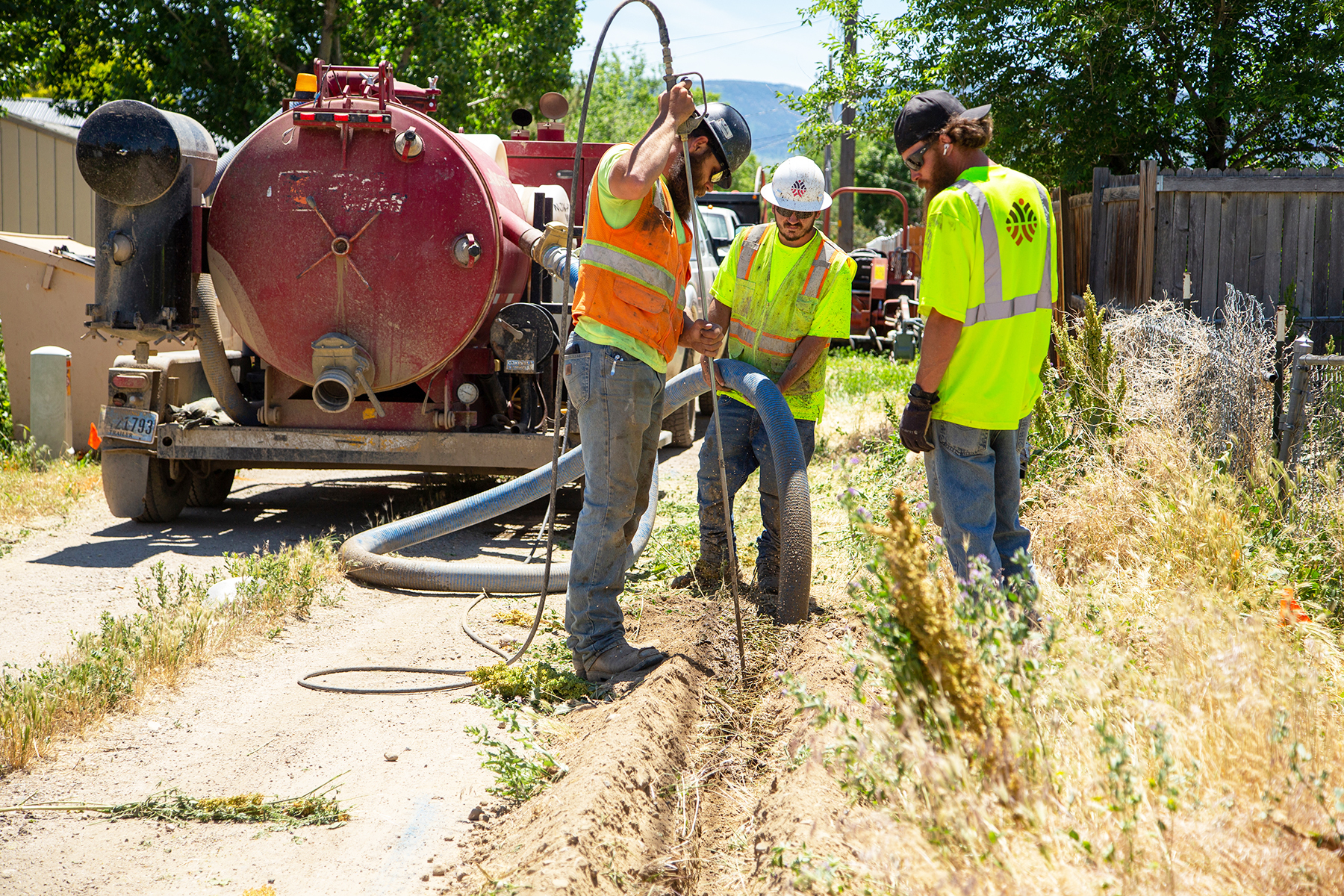 Mountain West Technologies connects homes and businesses with fiber optic technology
On Friday, June 17, Mountain West Technologies completed its first fiber optic Internet connection to a residence in Evansville. Fiber optics, or fiber as it is commonly known, is well known as the best internet technology currently available.
Thanks to a locally owned and operated internet service provider, fiber to the home is now officially in the central region of Wyoming.
"As far as I know, I don't know if anyone in Casper has fiber all the way to their residence. These homes in Evansville must be some of the first in town to actually have fiber-to-the-home enabled in the Casper area," said Kyle Ridgeway, vice president of Mountain West Technologies.
And that's just the beginning. Prior to moving into the residential space, Mountain West previously provided fiber to various local businesses and entities. This includes municipalities, such as fire stations and police stations, in the Casper area and other cities in Wyoming.
"We partnered with municipalities, where we put them on fiber with the understanding that we would extend that into the communities themselves. It's the first step to take it to the next level, which is to add customers in residential areas where you can get service in your home in a way we've never gotten before," says Ridgeway.
Sabrina Kemper, Community Development Manager at Mills, expressed her excitement about having more reliability with the fiber connection. She mentioned that since their town hall is currently only run by Wi-Fi, they frequently lose internet access during storms in Wyoming. Once the fiber is installed for the town hall, residents will also be able to access it.
"We're happy to have fiber, but we're also happy to help a business in Wyoming expand its services by being able to move into residential areas," she explained.
Fiber internet is the future of internet connection. Wyoming presents a unique opportunity for Mountain West, as it is actually one of the worst states in terms of internet accessibility and connectivity.
According Broadband NowWyoming has some of the slowest internet speeds, ranking 47 out of 50 for worst internet coverage and access price.
Ridgeway said, "We've all learned over the past couple of years how important it is to have reliable internet service in your home for whatever reason. Whether you have children, whether you work from home. We have a lot of people moving from out of state but still working remotely. They must have a good internet connection to do so.
Mountain West answered the call for better rural internet in central Wyoming in late 2020. They built 16 new towers in Natrona County and upgraded most of their network to be able to deliver internet reliable broadband via wireless at a time when it was badly needed.
Already a leader in rural wireless Internet, Mountain West is now focusing on fiber optic solutions within the city limits, beginning with the towns of Evansville and Mills.
The potential of fiber optics seems limitless. Using fiber technology, Japan's National Institute of Information and Communications Technology last year set a new world record for the fastest internet speed at 319 terabytes per second. At this speed, you will be able to download nearly 80,000 movies in a second.
Matt Kadlick, director of sales and marketing, says, "This will be the strongest Internet these people have ever seen. It really is the future of connectivity. The industry really doesn't believe there will be anything else faster than this.
Mountain West Technologies strives to provide affordable options for Wyoming residents, with options starting at $50 per month. In addition to their low prices, Mountain West is unique in that they are locally owned and operated, and this innovative technology really appealed to their passion for supporting communities across Wyoming. They've spent the past two years working to bring fiber to Wyoming, especially in smaller areas where it's more rural and needs a better connection.
"We turned to fiber in these areas because these communities are hungry for it," says Kadlick.
Fortunately, because it's a local company, Mountain West Technologies teams can focus on quality rather than speed, like larger companies that have staff from out of state. All Mountain West work is done locally, by their own employees with their own equipment.
At the moment Mountain West Technologies is working to bring fiber optic internet to the inner part of Evansville and Mills and they are currently working on installing conduit in the ground before the houses go up in a brand new neighborhood in Mills.
Kadlick said: "There are really two phases. There's the phase they're working on right now, which is putting the infrastructure in the ground in the alleys. It takes a crew of 4-5 people depending on what they are doing that day. Once they get to the second phase where they connect to the house, it will only take a few guys. »
It's a relatively quick process for new construction areas, but it's also an option for neighborhoods and homes that have been established for many years. In fact, these communities have even expressed to the Mountain West team how much they need better online connectivity.
"These homes need it. We hear every day from people downtown who have terrible internet service from other providers," Kadlick explained.
As fiber implementation continues in Evansville and Mills, Mountain West also plans to begin helping residents of Casper and other parts of central Wyoming connect fiber to their homes. They believe the future is fiber and homes across the state need it more than ever.
"The first customer we signed in Evansville was doing speed tests, they were losing 900 by 700, which is amazing for things like gaming, augmented reality, VR, video conferencing, etc. It's a bit what you need in a modern economy. You need to have access to that kind of speed," says Ridgeway.
He also added, "For Wyoming to grow and for us to diversify our economy, we need to have that available for these businesses that are coming in."
Mountain West Technologies has approximately 50 employees in total, between Casper, Cheyenne, Chugwater and Saratoga. The company is based in downtown Casper. As a member of 307 First family, they are committed to their mission: to keep Wyoming businesses in Wyoming. As a local service provider, they strive to bring Internet options and services to Cowboy State that include high levels of bandwidth, reliability, and affordability.
"99% of what people will tell you is this is the best internet in town, this is the best customer service you can find. If something goes wrong, one of your neighbors rushes to fix it. Any time of day, any day of the week, they fix the problem," says Kadlick.
If you live in the cities of Evansville or Mills and want to connect fiber to your home, contact Mountain West Technologies today. Scan the QR code below to request internet at home or visit their website to get more information.

---
PAID BY MOUNTAIN WEST TECHNOLOGIES
This article is a promoted article. The views, thoughts and opinions expressed in the text belong solely to the organization that paid for the article and do not necessarily reflect the views, thoughts or opinions of Oil City News, its employees or its publisher. .. Please complete this form if you would like to speak to our sales department about advertising opportunities on Oil City News.